Granola for the bold & brave
What makes this granola so special? Besides the incredibly nutty flavor from whole food ingredients, we add the ancient grain teff. This nutrient dense grain is grown on our farm then handcrafted to become delicious artisan granola.
bold in flavor & brave in character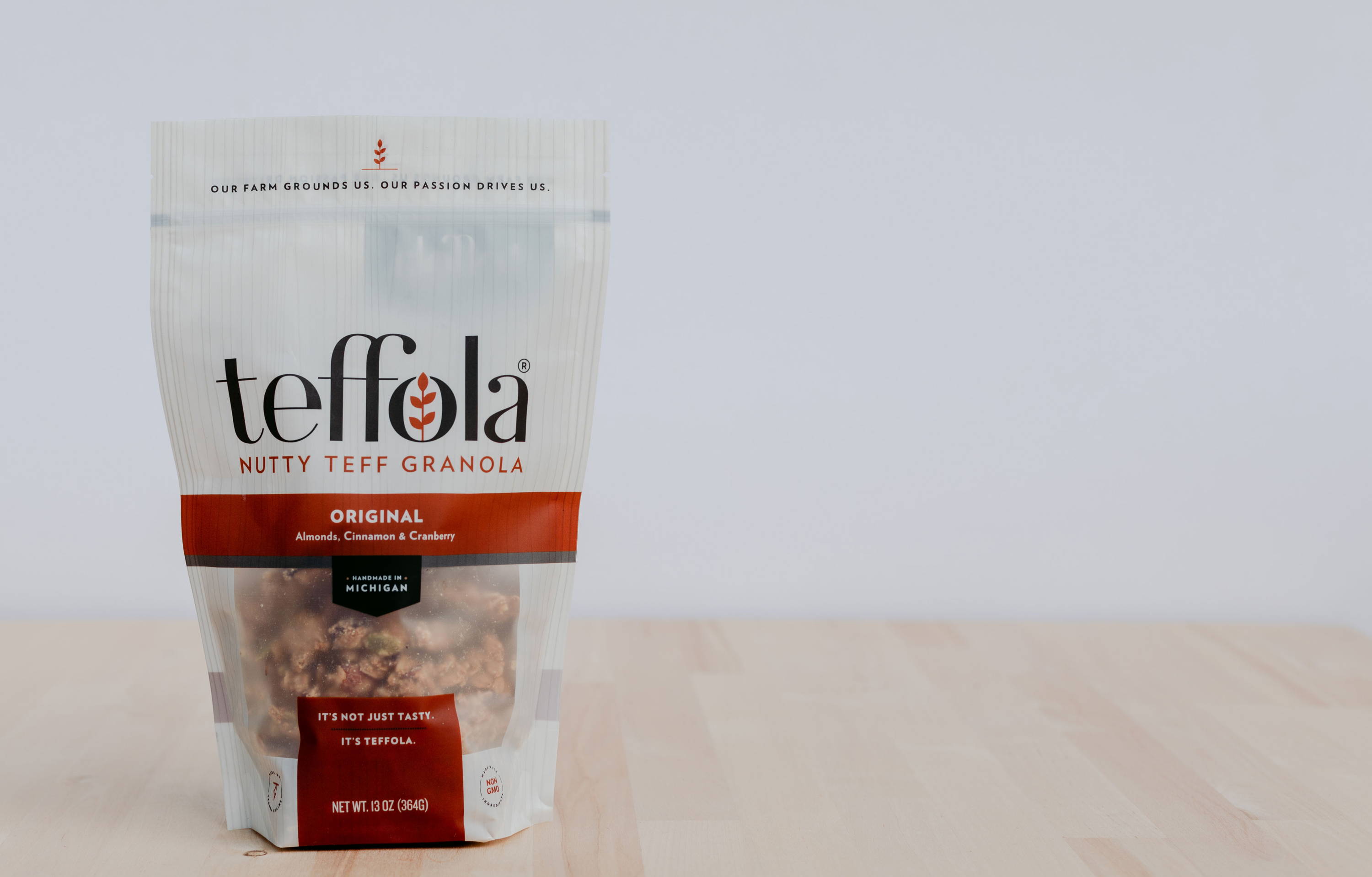 Teff isn't just our star ingredient. We grow the tiny grain on our 7th generation farm in southern Michigan and mix it with high quality vegan ingredients to make a flavorful granola.
Read more of our story here.
When you're looking for flavor and fuel from real ingredients, reach for Teffola. Healthy fats from nuts and seeds with protein and fiber from ancient grains — we got you covered for the day ahead.
Our founder, Claire, hates when granola poses as a candy bar for breakfast. All of our flavors are under 4 grams of sugar per serving. And our sweetener? Pure Maple Syrup! Check our nutrition facts here.
Our family farm is pivoting from corn and soybeans to alternative grains and seeds. The farming landscape is shifting & so are we. Learn more here and sign up below to follow along on our journey!
We're more than a delicious handmade granola. We're living our truth and Teffola is a reflection of that. You can taste the difference in our product because it's handmade with a range of ingredients by a small team of people. We're bold in flavor and brave in character. Not just because it yields great tasting granola and helps people stay healthy. But because we've seen the effects of living this way in ourselves and our community. The bold and brave decisions we've chosen have made the world a better place.
We inspire every visionary to plant the seeds of change.
Whatever that change may look like in your life, we're here to encourage you on that journey. You are bold enough to take that leap. You're brave enough to walk away. And we'll keep doing what we're doing until everyone feels that they can.
Announcing Zingerman's x Teffola
We are beyond excited to announce an exclusive flavor with the masterful artisan geniuses of Zingerman's! Cherry Cacao Granola is made with Michigan cherries and teff grown on our farm in Addison. Sign up for alerts at the link below!
Nearest Store
with Teffola