Granola for the bold & brave
We're bold in flavor and brave in character.
What makes this granola so special? Besides the incredibly nutty flavor from whole food ingredients, we add the ancient grain teff. And to take it one step further, we bake Teffola small batch style because fresh food tastes better and is better for you.
It's that simple.

Teff isn't just our star ingredient. We grow the tiny grain on our 7th generation farm in southern Michigan and mix it with high quality vegan ingredients to make a flavorful granola. Read more of our story here.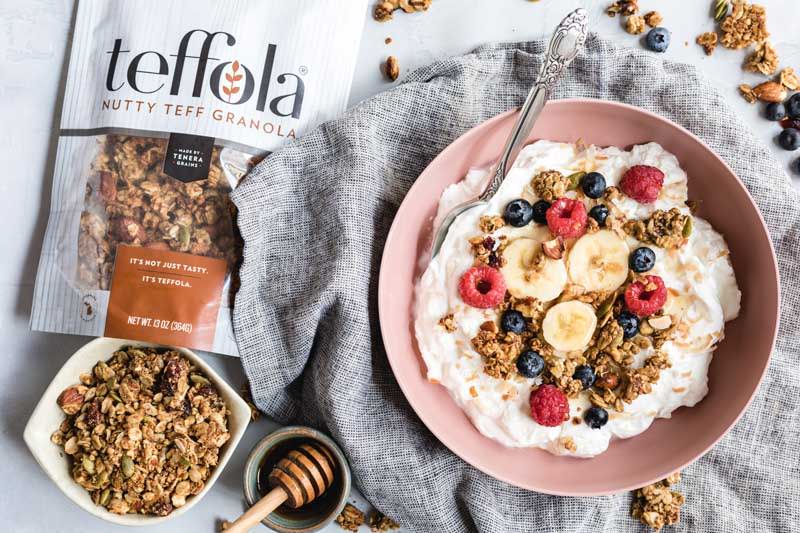 We support our local community. For us that means purchasing our ingredients from small suppliers in Michigan. They keep us going and we feel a responsibility to do the same.
Fresh food tastes better and is better for you. It's that simple. Each batch of Teffola is handcrafted by our small but mighty team. Megan keeps up with the details and Shirley feeds us bagels!
Our family farm is pivoting from corn and soybeans to alternative grains and seeds. The farming landscape is changing. And so are we. Learn more here.
We are thrilled to announce a partnership with local smoothie company The Purple Beet to deliver açaí bowls topped with Teffola to the brave women and men working so hard at COVID-19 ICU across metro Detroit. The Purple Beet supplies the açaí smoothie base which perfectly compliments our nutty Teffola.
Find a Store with Teffola near you!