Granola for those who care
Made by people. Not machines.
What makes this granola so special? Besides the incredibly nutty flavor from whole food ingredients, we add the ancient grain teff. And to take it one step further, we bake Teffola small batch style because fresh food tastes better and is better for you.
It's that simple.

Teff isn't just our star ingredient. We grow the tiny grain on our 7th generation farm in southern Michigan and mix it with high quality, highly flavorful ingredients. Read more of our story here.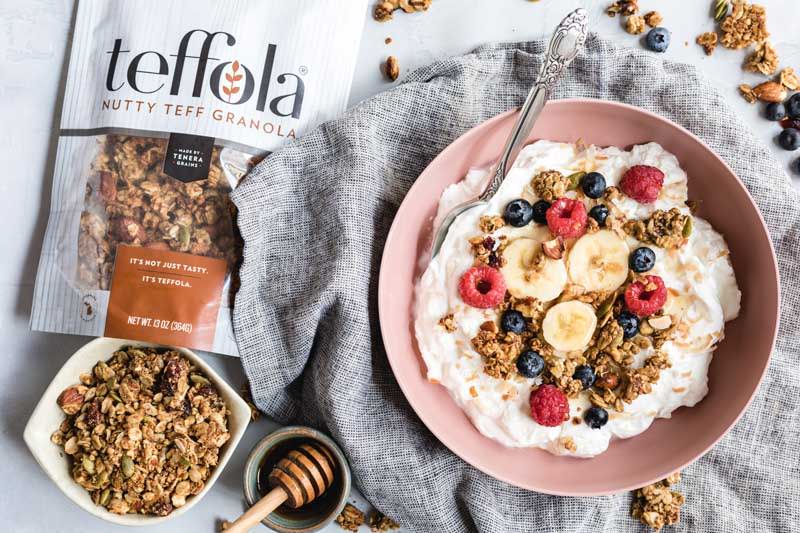 Complex carbohydrates and healthy fats keep you charged up for the day without compromising on flavor. No midday snack needed.
Fresh food tastes better and is better for you. It's that simple. Each batch of Teffola is handcrafted with mindfulness by our small but mighty team.
Our family farm is pivoting from corn and soybeans to alternative grains and seeds. The farming landscape is changing. And so are we. Learn more here.
Find a Store with Teffola near you!
Ready for a Teffola Subscription?
Now available! Chocolate Coconut Teffola Squares - made with all vegan and naturally gluten free ingredients. The creaminess of the 3 ingredient dark chocolate blends perfectly with the light flavor of coconut and a hint of vanilla. Sold online and in Ann Arbor, Mich. at Argus Farm Stop and Agricole Farm Stop